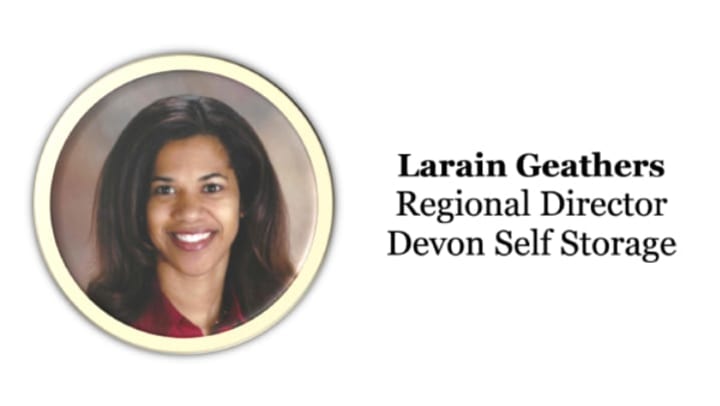 Q&A with Regional Director of Operations | Devon Self Storage
August 03, 2020 | by Devon Self Storage
Since starting at Devon Self Storage in November 2019, Geathers' unique leadership style has played a key role in unifying the Devon team in her region, which includes 10 stores in Texas, Tennessee, Virginia, and North Carolina. While Geathers continues to learn more each day about the self storage industry, she also helps others to do the same. Her experience allows her to train managers on basic good customer service, management, and attention to detail. She has already created good relationships with some of our capital partners and contributes to regular investor group reporting. We believe she has an exciting future with Devon.
Question: How did your career path lead you to Devon Self Storage?
Geathers: After 13 years as a District Manager in the Educational field I was looking for a career change back to a retail related entity. I watched the growth of the self-storage business for a year before joining Devon Self Storage. I wanted to join a smaller company in order to be a part of the growth and blueprint establishment as the company continues to expand.
Question: What is the best advice you've received in your career?
Geathers: Tom Wyatt, the CEO of my previous employer, has managed multiple company turn arounds. He shared that he was the most ineffective as a CEO when he found himself doing other peoples' jobs! It's always stayed with me as a reminder. If I have to do someone else's job, who's doing mine?
Question: Which experience in your career influenced who you are today?
Geathers: I was part of a one-year Accelerated Leadership Program four years ago. The program introduced me to corporate board room experiences, how important feedback to shareholders is, and the importance of overseeing peers.
Question: What has been the most challenging aspect of your career?
Geathers: The most challenging aspect of my career has been maintaining a healthy work life balance. I still need to remind myself to put me first some days and not always my work.
Question: What has been the most fulfilling aspect of your career?
Geathers: The most filling aspect of my career has been growing employees into leaders! It takes additional time to coach and mentor people from managers to leaders, but it's rewarding to see them ascend.
Question: What advice would you give to future Devon Self Storage leaders?
Geathers: True leaders show up, speak up, and weigh in to support the growth of their company. In order for our company to grow we need to do exactly that.
More From Devon Self Storage