Moving Supplies
Whether it's to your new home or a storage unit from Devon Self Storage, your moving day is full of important details. One of the most essential things to remember for moving your belongings is having enough moving supplies.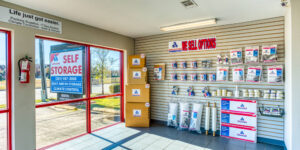 If you need moving and packing supplies, look no further than Devon Self Storage. You can purchase moving supplies on-site at your facility's front office!
Availability may vary by location, so call ahead to confirm your local Devon Self Storage team has the supplies you need.
Boxes for Moving and Self Storage
Boxes are synonymous with moving. The tricky thing is ensuring you have enough of them! We offer a wide selection of boxes to help you keep your move organized and efficient. Store clothes, paper documents, small decor pieces, and more in your boxes from Devon Self Storage.
Packing Tape
Packing tape quite literally holds your moving day together! Keep rolling through your moving day and pick up a roll of tape from our team.
Furniture Covers
If you've ever wondered what you should use to cover couches during a move, grab a furniture cover from Devon Self Storage. Shield your furniture from dirt, grime, and dust while they're in storage or traveling to your new home.
Bubble Wrap and Packing Paper
Speaking of shielding your belongings, pack your boxes with bubble wrap and packing paper to keep their contents from bouncing around as you move them into your storage unit.
Disc Locks for Storage Units
Need a lock for your storage unit? We've got you covered. Grab a disc lock for your unit from our team to ensure you're the only person who can access your belongings.
Find Moving Supplies at Devon Self Storage
When you're ready to make more space in your home or business, do it with self storage and moving supplies from Devon Self Storage. Find a facility location near you and rent or reserve your storage solution today!