Commercial Storage
Storage space is an excellent investment for any business. Whether you're a small business owner or you operate an established company or franchise, a lack of space can limit your ability to grow. A cramped store or office space may even hinder productivity and organization.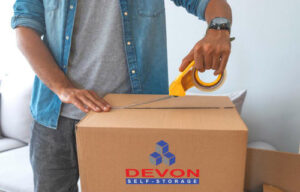 Devon Self Storage offers commercial storage solutions to help you stay efficient. Our commercial storage unit sizes range from 5' x 5' to 10' x 30', and we provide several features to make your storage experience easier. Learn how a unit from Devon Self Storage can help you as a business owner today!
Commercial Storage Features
From small business inventory storage to document storage for tax season, any entrepreneur can benefit from renting a commercial storage unit. In addition to a wide range of unit sizes, we make our storage solutions convenient through business storage features, including:
Digital video recording
Month-to-month rentals
Drive-up units
Wide aisles for moving trucks
Package acceptance and delivery to your unit
And more
What storage unit size do I need for my business?
Your commercial storage unit should fit your needs, not the other way around. Devon Self Storage can help store documents, signs and supplies for your real estate business, or even large equipment for your contracting business. Commercial storage unit sizes at Devon Self Storage include:
5' x 5' storage unit—the size of a small walk-in closet; storage solution for office supplies, documents
5' x 10' storage unit—the size of a small shed; best-suited for small office furniture or cleaning supplies
10' x 10' storage unit—the size of a small garage; ideal size for storing desks, electronics, handheld tools, and lawn care equipment
10' x 15' storage unit—the size of a large bedroom; ideal for storing larger equipment or office furniture
10' x 20' storage unit—the size of a small garage; ideal for realtors to store personal furniture during a home staging
10' x 30' storage unit—the size of a large garage; excellent storage space for large retail inventory
If you need help choosing the right commercial storage unit size, dive into our unit size guide, or talk to your nearest Devon Self Storage facility's team.
Which businesses can benefit from commercial storage?
Regardless of your industry, self storage is invaluable for any investment. Business owners that particularly benefit from using a unit at Devon Self Storage, however, include:
Retail Store Managers—When you have more inventory than space to keep it in, count on a Devon Self Storage unit to keep your backroom from overflowing.
Entrepreneurs—If a permanent office space is still on the horizon, or you run your business from home, keep business supplies, inventory, and more in a storage unit.
Contractors—Looking for a place to store lawn equipment, construction tools, or building materials in between jobs? Keep them in self storage.
Real Estate Agents—Whether you're staging a house or need a place to store "For Sale" signs and flyers, Devon Self Storage has you covered.
Grow Your Business with Devon Self Storage
When you need commercial storage for your business, visit Devon Self Storage. We offer a wide range of storage unit sizes and features at affordable rates. To learn more about our storage solutions, explore our blog and frequently asked questions. Ready for more space in your store or office? Rent or reserve a unit with Devon Self Storage today.