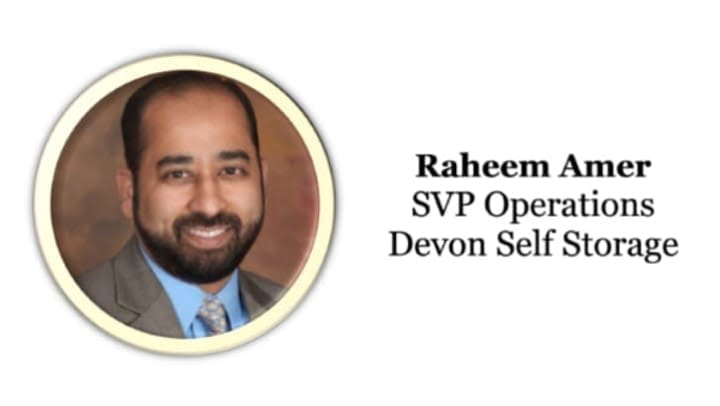 How To Stay Agile And Relevant
August 03, 2020 | by Raheem Amer
Big Picture, Covid 19, Storage Trends
Have you ever seen a NASCAR race car crash? Everyone rushes out to make sure the drivers are safe, debris is removed from the track, and cars are towed away. At some point the race is resumed with the cars following around the track slowly for a few laps before a lead car pulls away and all cars hit the accelerator at full speed. The arrival of COVID-19 is very similar. It came on suddenly and our lives came to a screeching stop and we removed ourselves from our fast-paced lives to isolate in our homes.
As we begin the repairs to our society and resume our daily lives and businesses, we should take a few laps slowly and carefully. We will get the new rules, look at the landscape and eventually press the accelerator to go full speed ahead … or will we? In this newsletter I want to look back at what has occurred, put some perspective on it and give my thoughts on the second half of 2020.
Throughout the 2nd quarter we continued to see unemployment numbers skyrocket, businesses filed for bankruptcy and cities across the US shut down completely. Retail sales were down -16.4%, Over 36.5 million people filed for unemployment. Existing home sales fell -17.8%. Airlines went from 2 million passengers daily to just over 100,000 passengers per day.
With all these negative trends…the self storage industry has apparently weathered the storm. Devon Self Storage's portfolio ended the 2nd Quarter up on year-over-year revenue (for same store sales) by +2.16% and increased our occupancy by +3.7%.
One of the defining aspects of the Covid-19 disruption is that it's not restricted to one industry or part of the market. It's universal and indiscriminate. And while the challenges of each business are unique, we are all being affected in some way.
When people's needs and behaviors are constantly in flux, leaders that are forward thinking and visionary give us the flexibility to transform quickly, improvise, experiment, as well as carve out new ways to serve our customers. During these past few months, Devon's teams have worked on three strategy focus items that gave us these positive results. Here's how Devon Self Storage did it:
Stay Agile and Relevant: In the wake of the outbreak, it was clear that customer shopping patterns were changing at a rapid pace. We saw an increase in social media usage of over 60% and a large percentage of the traffic to our website was coming from other channels. Our omnichannel approach, which we had implemented in 1st Quarter, began paying off. Here were some of our takeaways:
Reviews: In 2019, we increased our review output from 3 per month to 10 reviews per store per month. We also respond back to 99% of our reviews every week – thanking them for their review whether positive or negative. This process helped us rank better on organic searches and accelerated our rentals. Our rentals were up YOY in Quarter 2, even with the pandemic.
COVID updates: We updated all Google My Business (GMB) and Facebook accounts on a regular basis, so our customers knew exactly what was happening at our sites and offices. 28% of our leads landed on our website from social media channels.
GMB Questions: We asked and answered several frequently asked questions on Google My Business so customers searching for our properties wouldn't have to wait for an answer. Due to all of the stay at home orders – customers were trying to reach out to us at odd hours of the day and night.
Build Relationships over Sales: When our customers were quarantined at home it was the best time to be helpful and responsive to our customers' needs while gathering insights and fostering long-term connections. While travel and tourism companies were taking big hits, the savviest self storage operators were focused on building relationships instead of just driving sales. Devon Self Storage did the following in 2nd Quarter:
Devon ceased all auction activity.
Devon waived all late fees.
Devon stopped all rate increases.
Devon offered two months free storage to all first responders and essential workers.
Social media platforms are an excellent place to have conversations, from Twitter, Facebook, LinkedIn, and Instagram – We communicated our plans and kept our customers up to speed.
Get Comfortable with the New Normal: Serving and speaking to our customers' needs takes more than surface-level changes. To position yourself for long-term success, we worked on how our current operations and strategies can complement, or even replace, past structures and best practices. Devon Self Storage had made multiple changes in 2019 that came to the forefront during this pandemic:
Voice over Internet Phone System: With this system we were easily able to make changes to operational processes on the fly. If a manager felt sick and couldn't make it to the property, we remotely forwarded all calls to another site across the city or state. We tracked how long it was taking managers to call our customers back and added extra support to sites that needed it.
Online Rental Process: Devon had installed online rentals as a feature of our website in Jan 2020. During Covid we saw an increase of over 280% in online "No Contact" rentals. We continue to see many customers focusing on this service as they no longer want to interact with managers on a face to face basis in the site's rental office.
Many operators had no contingency plans in place for this new reality. Devon, on the other hand, had the foresight that had our company leading from the front. At this point, Devon recognizes that we're not simply taking reactive measures until things go back to normal; we're proactively building for a new normal that's already here. Just as individuals are being forced to embrace the drastic changes prompted by the pandemic, both challenges and silver linings, self-storage operators need to get comfortable with the new discomfort. If they reassess how they're operating, reorganize, and reinvent themselves now, they'll emerge much stronger on the other side.
I have shared this story several times in the past and think in closing it is a worthy reminder to the value of preparation and planning, even as it relates to your business operations.
A young man applied for a job as a farmhand. When the farmer asked for his qualifications, he said, "I can sleep when the wind blows." This puzzled the farmer. But he liked the young man and hired him.
A few days later, the farmer and his wife were awakened in the night by a violent storm. They quickly began to check to see if all was secure. They found that the shutters of the farmhouse had been tightly fastened, a good supply of logs had been set next to the fireplace, and the young man slept soundly. The farmer and his wife then inspected their property. They found that the farm tools had been placed in the storage shed, safe from elements. The tractor had been moved into the garage. The barn was properly locked. Even the animals were calm. All was well.
The farmer then understood the meaning of the young man's words, "I can sleep when the wind blows." Because the farmhand did his work loyally and faithfully when the skies were clear, he was prepared for the storm when it broke. So, when the wind blew, he was not afraid. He could sleep in peace.
The first half of 2020 has certainly been interesting from a market perspective. This is a perfect opportunity to let your hard work, comprehensive planning and discipline pay off. We are here to help and share our knowledge. Please call us at 888-55-Devon or email us at info@devonselfstorage.com. Devon Self Storage is happy to take your call if you want to discuss your operations in greater detail.
More From Devon Self Storage