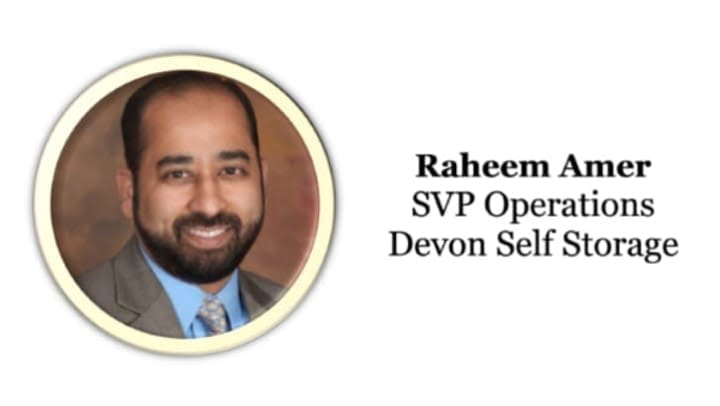 Get to Know Your COVID Customer
November 02, 2020 | by Raheem Amer
Covid 19, Customer Service, Storage Trends
We're coming into the home stretch of 2020, and for those following us on LinkedIn, you know that business at Devon Self Storage is red hot! We put pedal to the metal out of the gate – making growth happen for our investors and partners. You can rest assured we are not about to let up on the gas now!
Devon Self Storage Q3 Accomplishments:
Year over Year Revenue Growth at +4.6%
Year over Year NOI Grew by +10.6%
0.5% of our customers were renting online pre Covid versus 43% in Quarter 3.
Increased our rentals by +31% (Year over Year).
Vacates were down by -9% (Year over Year).
As the world begins to open back up, there's no doubt that life, as we knew it, has changed. This is also true for the consumer. The way we buy, the things we buy, and the mindset in which we buy them have all been altered forever. This meant how Devon Self Storage presents its products and communicates with our customers also needed to change.
The changes will look different for every operator, and they will continue to evolve as the pandemic situation evolves, which is what we will cover in this newsletter. I'm going to use expert insights, recent data, and marketing fundamentals to help you better familiarize with and more effectively and compassionately market to your post-COVID storage customers. Here are the topics we will cover:
How COVID-19 has impacted customers in general.
What the post-pandemic customer is looking for.
Four strategies to better understand your customers post COVID-19.
1. How COVID-19 has impacted customers: We know that COVID-19 has impacted businesses across all industries, but let's focus on the consumer—or rather, the individual with a family, a job (hopefully), and basic daily needs to support. Much of this is not surprising, but let's look at what is being said among operators about the impact of COVID-19 on today's buyer:
Refocused priorities: Customer priorities have become centered on the most basic needs, sending demand for hygiene, cleaning and staples products soaring, while non-essential categories slump. Many storage operators have seen a boost in rentals and slowdown in vacancies over the last few months.
More online and buy local behavior: The factors that influence brand decisions are also changing as a "buy local" trend accelerates. Digital commerce has also seen a boost as new consumers migrate to online for renting vs. walking into our facilities. Operators that had online rentals saw an acceleration in rentals during the lockdown.
Weakened mentality: Consumers and businesses have been through trauma—emotionally, physically, financially, and more. COVID-19 has left millions of people without jobs, sent millions into isolation, and has forced everyone to come to terms with the fact that we are all inherently vulnerable. Some storage operators saw a shift in sales from weekend to weekday rentals.
2. What is the post COVID-19 consumer looking for? We can see that the post COVID-19 consumer is lacking in morale, security, and even the ability to venture out of their local community. But what does this translate to in terms of what they need? What is this new customer looking for?
Aside from emotional changes, the landscape for businesses has changed physically, too. Customers are more likely to interact with businesses online, opening an even wider digital landscape.
As storage operators we need to give customers "safety of mind" that we are doing everything possible to keep them safe and protecting them when they visit the property. Emphasize your Covid19 messaging and precautions on the website, in your digital marketing, at the property and during customer interactions or customer touch points.
3. Four Strategies on how you can get to know your post-COVID customer? It's clear that COVID-19 has caused major shifts across all aspects of the consumer's life—buying behaviors, emotional mindsets, daily challenges, and core desires. So, what does that translate into for your customers? These four strategies will help you to obtain and implement that knowledge.
1. Omnichannel Approach: It's clear that you're no longer serving the customer you were serving six months ago. That means it's time to update your advertising, so your messaging, outreach, sales, and branding are attracting customers to you.
Even if you've done this exercise before, it's still a great time to revisit—especially with the drastic shifts that have occurred during this season. Advertising should include your target audience's general demographic/psychographic details, behaviors, industry pain points, and concerns.
Back in April, Devon noticed a change in customer communication pattern. With lockdown in place customers were reaching out at odd times of the day and night to ask questions regarding their storage needs. We immediately shifted our advertising dollars to capture these consumers. We also added a chatbot feature to our website so consumers could ask their questions and get immediate answers. This resulted in an increase of over 400% in leads thru the chat feature on our website.
2. Don't ignore social media: In a post-pandemic world, social media can no longer be avoided—both for getting to know your customers and for connecting with them. A recent study from CMO found that 84% of companies were using social media for brand building (up from 60% before the pandemic).
It is important to use social media as a tool to connect with and get to know your post-COVID customer passively and actively. For example:
Passively take note of consistent questions and comments. What patterns are emerging about the verbiage your customers are using and the topics they're discussing? Devon continuously monitors the chatbot questions to anticipate and address future questions.
Actively seek out conversations with your customers via comments and direct message polls, surveys, and other engagement features on social media. With so many interactive tools now available through social media, you can intentionally get to know your customer better. Devon regularly conducts Hotjar surveys of customers that land on our website to make site more user friendly.
Remember, however, that above all, consumers are looking for authenticity, especially on social media. In fact, a recent Stackla report found that 90 percent of the 1,590 consumers surveyed say authenticity is important in deciding which brands to support.
Devon continuously uses the data collected from our chatbot and Hotjar accounts to focus on community building centered around authentic content that proactively solves customer concerns.
3. Build customer engagement into your culture: In our COVID world, customer engagement and development are key. At Devon, it's all about getting to know "WHY" our customers are storing when they reach out to us:
Devon has trained our frontline managers to ask a few initial questions to our new customers, such as:
What is creating your need for storage?
How can we make your move easier?
How can our products or services be better suited to your current needs
This type of customer communication goes beyond initial calls. Build this mentality and curiosity into your company culture so anyone on the phone with a potential or current customer is culling these insights. When everyone is asking the same questions, patterns will emerge, allowing you to get to know this new customer.
4. Track customer sentiment: Tracking what your customer is saying, feeling, and thinking is critical right now. Track the decision-making process of clients through trends and cyclical patterns gathered through analytics and predictive modeling tools.
Devon regularly monitors visitor analysis on our website. To get started with tracking your customers' sentiment, get a few key processes and elements in place:
Sign up for the free service on Hotjar and register your website.
Monitor when your customers are logging in.
Check videos of each customer interaction with different web pages.
See why customers are bouncing off your site.
Does your website have issues that are getting in the way of the customer renting?
Ask feedback questions to anyone that is leaving without converting.
Having this knowledge about your new normal audience is crucial for being able to maintain effective client communication, strong client relationships, and relevant marketing messaging.
Now is the time to get to know your COVID-19 customer
Consumer habits have shifted drastically and will likely continue changing as we wait to see what else COVID-19 will bring to the world. Getting to know this new customer and continually engaging with them to keep a thumb on the pulse of what they need is key to your success in marketing during and after COVID-19.
Use these strategies to tune into your customer, rebuild your advertisement, get a feel for their needs, and start speaking their language so you can continue growing and evolving as a company, no matter what's happening with COVID-19.
There's never been a better time to align with Devon Self Storage 3rd party management team. We are ready to help you grow your business and show you the Devon difference. Please call us at 888-55-DEVON or email us at info@devonselfstorage.com. We would love to do a FREE audit of your property and get you set up to succeed in 2021!!!
More From Devon Self Storage