Psychological Benefits of Spring Cleaning | Devon Self Storage
With springtime quickly approaching, you're likely going to feel a spark of inspiration to deep clean your house, tend to your yard, and generally get your life organized after a long, gloomy winter. From ridding rarely seen nooks and crannies of dust and debris to scrubbing floors and baseboards with a fine-toothed comb, spring cleaning can be beneficial for both practical and psychological reasons – helping to reinvigorate your spirits while hitting the refresh button on your life and your home.
But just how did the annual spring cleaning phenomenon come to be? And how can cleaning and organizing – such as sorting all of your documents, paperwork, and receipts – affect your mental health and happiness?
A Brief History of Spring Cleaning
Dating back as early as 1864, annual springtime housekeeping rituals were commonplace. Back then, people lit homes with kerosene or whale oil lamps and were heated with fireplaces full of wood or coal. During the winter months, therefore, houses would become coated in a layer of grime and soot in nearly every room, but the cold weather made it difficult to properly clean while ensuring valuable heat didn't escape.
At the first sight of spring and warmer weather, homeowners were able to open all of their windows and doors – helping them air out any soot, grime, or stale air. In addition, the warmer air provided ample opportunities to beat the winter dust out of rugs and bedding, scrub the floors and window frames until perfectly clean, and generally get the house organized.
Sunlight & Human Biology
During the winter, our bodies are in a perpetual sleepy state. With fewer hours in the day and dreary weather, we can be exposed to very little sunlight for weeks on end. And with so much darkness on the horizon, our pineal glands can produce an overabundance of melatonin – a human hormone that triggers sleepiness. In such a sleepy stupor, we may find it difficult to gather enough energy to deep clean our homes. When our bodies are exposed to more sunlight in the spring, we tend to produce much less melatonin – thus giving us more expendable energy to clean and get organized!
How Spring Cleaning Can Affect the Psyche
Not only is spring the perfect time to scrub your space spotless, but it's also a great opportunity to give your psychological well-being a much-needed boost. According to research completed for the Personality and Social Psychology Bulletin (PSPB), perceiving one's home as being cluttered, disorganized, or unfinished could directly trigger stress reactions and a depressed mood, whereas viewing the home as more restorative might alleviate these negative states. "The home can be a place to unwind from the workday, but when housework and home repairs compete for the attention of time-strapped working parents, home can become more of a source of demands than a haven from the outside world," said Darby E. Saxbe, Ph.D., co-author of "No Place Like Home: Home Tours Correlate With Daily Patterns of Mood and Cortisol."
Disorganization & Cortisol Levels
Over the course of PSPB's week-long study, researchers collected data from 30 middle-class, dual-income families living in a large U.S. city through self-guided home tours. Through family interviews, videotaping, psychosocial questionnaires, and a salivary sampling of the stress hormone cortisol (a steroid hormone that helps regulate how the body responds to stress), researchers found that households with more disorganization and clutter generated flat cortisol slopes in homeowners – causing symptoms like psychological distress, depression, post-traumatic stress disorder, poor coping skills, a perceived lack of social support, and compromised relationship functioning.
A Clean Home is a Happy Home
Although cleaning and organizing every corner of your space may feel daunting, thoroughly tidying up your home this spring can provide you with steady cortisol levels and a plethora of psychological benefits that include:
Reduced stress levels
Better sleep
Improved relationships
Reduced anxiety and depression
Increased productivity
The Psychological Perils of Paperwork Procrastination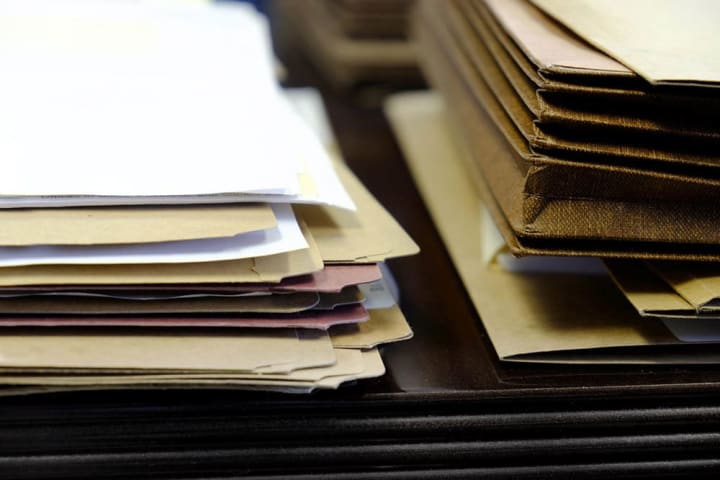 Many spring cleaning projects – such as scrubbing your baseboards or cleaning out your garage – have a clearly defined path from start to finish, giving you a feeling of accomplishment and relief right when the task is completed. On the other hand, projects like sifting and sorting through unorganized paperwork can feel like an impossible, indefinite undertaking, furthering the burden that a messy home can have on your psychological state.
What's worse is that the longer you procrastinate dealing with loose paperwork, the more it will keep piling up! Without the proper paper organization method in place, documents can ransack your living area or home office from floor to ceiling, making it difficult to keep your productivity levels up and stress levels down.
Taming Your Torrent of Paperwork
At Devon Self Storage, our storage experts know how difficult it can be to keep all of your important paperwork in order, but we are here to help you reap the benefits of getting organized this spring . Whether you need to sort through your paper clutter at home or business documents at your office, our team has put together this comprehensive guide on all things file prioritization, organization, and storage.
Ready to get started sorting, filing, and shredding?
Personal Documents You Should Keep Forever
The first step to sorting through your personal paperwork or business-related paperwork begins with knowing what documents you should keep and how long to keep them stored.
As a rule of thumb, you'll want to hold onto copies of anything related to state or federal matters forever, including professional certifications, licenses, deeds, and wills. Having these documents within reach will allow you easy access when you need to refer to them; not to mention that it's a pain to get them replaced with the relating government agency. Additional examples include:
Birth Certificate
Social Security Card
Wills & Power of Attorney Forms
Major Medical Records (Surgeries, procedures, medicine allergies, etc.)
Annual Insurance Policies (Most recent version)
Retirement Plan Statements and Social Security Forms (Most recent version)
Home Purchase Records
Vehicle Purchase Records
Personal Documents You Should Keep for a Bit
For certain documents, it can be a challenge to determine whether you should keep them forever. Some forms and records only need to be kept for a certain amount of time, depending upon any related period of limitations or necessary use. If you have any document that has exceeded the limitations indicated below, you can safely shred them without thinking twice:
Tax Records and Receipts – The IRS has a handy chart that details its period of limitations for certain tax documents, helping you determine exactly how long you should keep your tax-related paperwork. Generally, any tax document you've had for longer than seven years can be shredded.
Pay Stubs and Bank Statements – Keep for at least one year, as they can be helpful when filing your taxes, proving your income, or settling any disputes.
Home Purchase, Sale, or Improvement Documents – Keep for the duration you live in the home, or for at least six years after you sell.
Minor Medical Records and Bills – Keep for at least five years after treatment. Keep medical bills for at least one year after payment, just in case of disputes.
Warranty Documents – For anything you own with an active warranty, it's important to keep any related documentation for as long as you maintain ownership of the item.
Business Documents You Should Keep Forever
If you run a business, it's wise to avoid permanently getting rid of any document that's related to your operations. Keep documents that include details about taxes, finances, legalities, medical information, insurance, and employment data forever:
Income, Employment, & Sales Tax Records – It's best that you retain business tax records in some form forever. Much like your personal taxes mentioned earlier, the IRS has a chart that details its period of limitations for certain documents. If you're unsure about what you need to keep for your business, seek advice from your tax advisor.
Legal Documents – To understand what legal documents you need to hold on to, refer to your attorney for guidance. There may be no specific time limits set for keeping partnership contracts, employee documents, and non-compete or non-disclosure agreements, so it's best to seek advice from a professional.
Asset Records – Maintain asset records related to annual depreciation and the loss or gain from sales. This includes documents that show when and how you acquired the asset, purchase price of the asset, and cost of improvements.
Gross Receipts – Keep gross receipts that show amounts and sources, such as cash register tapes, bank deposit slips, receipt books, invoices, credit card charge slips, and 1099-MISC forms.
Purchase Records – Hold on to purchase records showing the amount paid in canceled checks. Also, keep cash, credit/debit card, and mobile payment receipts and invoices.
Expense Records – Save documents that show business operating costs even beyond purchases, such as canceled checks, cash register tapes, account statements, credit card sales slips, invoices, and petty cash receipts. Include documentation of travel, entertainment, gifts, or transportation expenses if you plan to take those deductions during tax season.
Sorting, Filing, & Shredding Your Stress Away
Filing your important documents takes a two-fold strategy: 1) Creating a secure filing system for your hard copies, and 2) Creating a digitized catalog on your computer, an external hard drive, or a cloud storage subscription service. Having multiple sources of file storage is key to ensuring you can access any documents you need at any time. Plus, if any of your hard copies happen to go missing or become damaged, you'll have a digital copy to fall back on.
With a little time and patience, you'll be on your way to a paper clutter-free home this spring. Here are the steps you need to take to sort through all the documents in your home or business:
Step 1: Get Document Storage Tools
The first step to getting your paperwork organized is to pick up a few tools that will help streamline your sorting process: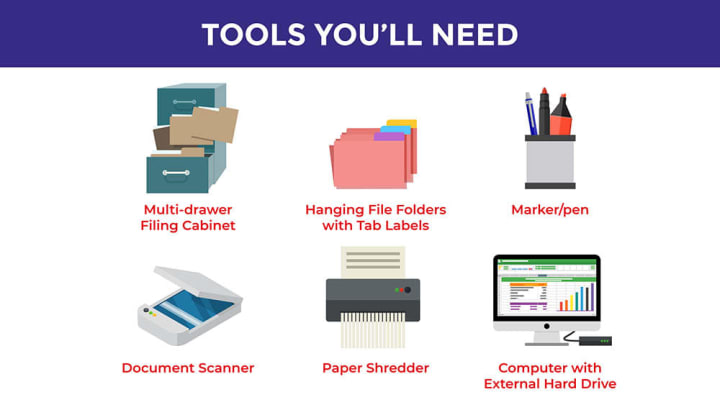 If you're a business owner sorting through documents at your office, you'll likely already have most of these tools nearby.
Step 2: Find an Open Space
To begin, it's best to find an open area with a lot of surface space – this could be a dining room table, an office desk, or a large space on the floor. Just make sure it's in an area where your documents won't be accidentally shuffled around.
Step 3: Gather All Your Paperwork
Loose pieces of paper or documents could be lurking around every corner, so make sure you're exhaustive when searching your home or work-space for paperwork. Double-check for paperwork in your car, on top of your refrigerator, or any miscellaneous drawer you might have.
Step 4: Sort Your Paperwork into Categories
With all your loose documents, paperwork, and receipts in one place, start sorting them into main categories – these could include groupings for taxes, medical records, legal documents, or income-related paperwork.
If you're sorting through a mix of both personal and business-related documents, make sure to give yourself enough space to create two separate areas for all your piles. Don't worry about ordering any of your documents by date or deciding what to get rid of just yet.
Step 5: Eliminate Unnecessary Documents & File the Rest
Once you have all your stacks created, you can start sorting through each pile methodically. As you sift, pull out anything that's outdated or past its period of limitations and put it in a master shred pile. If you're unsure about a document's importance, it's best just to go ahead and keep it. By the end, most of your piles will be much smaller than how they started.
With each smaller pile, sort through your remaining documents and organize by date. Once they are in chronological order, you can place them inside their own hanging file folder with a label that clearly indicates their category. Place the files inside your filing cabinet and create corresponding labels on the outside of each drawer you use.
Step 6: Digitize Your Files
After you file your documents into their own folders and place them into your filing cabinet, it's time to go back through and digitize them. Whether you're placing them on your computer's hard drive, an external hard drive, or on a cloud service, the process is the same: Create individual folders (or sub-folders, to go a step further) that mirror your hard copies and scan your documents into those folders.
To quickly get your documents scanned and saved onto a cloud storage service, you can utilize scanning applications such as Evernote Scannable on iOS or Google Drive for Android. While you might not get a high-resolution image like you would on a flatbed scanner, these apps can streamline the scanning process and help you knock out document digitization fast.
Step 7: Get to Shredding
Alas, it's time to start shredding! Grab your master shred pile and get rid of all of that unwanted paper clutter. Just remember, if you run into any document that you're hesitant about shredding, it's best to file it for now. Seek out professional advice from your tax advisor, your attorney, or any relating government agency, if need be.
Step 8: Stay Organized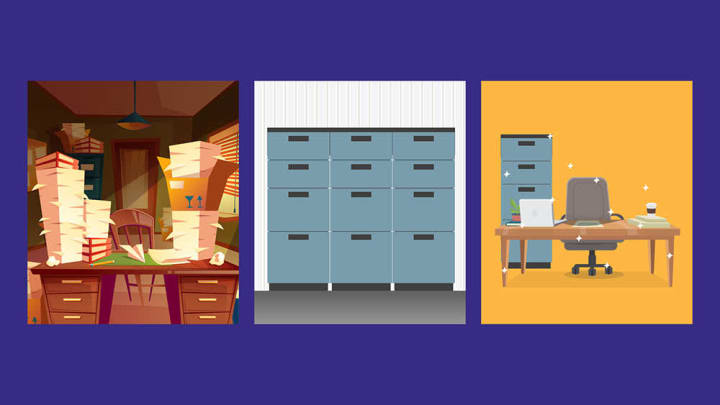 As you continue to receive important documents throughout the year, make sure to scan and file them as soon possible. Remember, the longer you put off filing, the faster paper clutter will pile up, causing you unneeded stress and anxiety.
Devon Self Storage: Document Storage When You Need It
If you're a small business owner with piles of paperwork – or a homeowner with an inexplicable amount of documents – conserving space is likely one of your top priorities. Here at Devon Self Storage, our self storage units provide you with the document storage you need to keep your home or work-space organized and free of filing cabinets. With 24/7 video surveillance and secure access, you can rest assured your sensitive paperwork will only be accessible by you. And with a wide range of self storage unit sizes available, you only have to pay for the space you need.
For more information on how a self storage unit can help you get your document storage under control and make your life stress-free, don't hesitate to contact your local Devon Self Storage facility today!
More From Devon Self Storage