How to Prep For Your First RV Trip | Devon Self Storage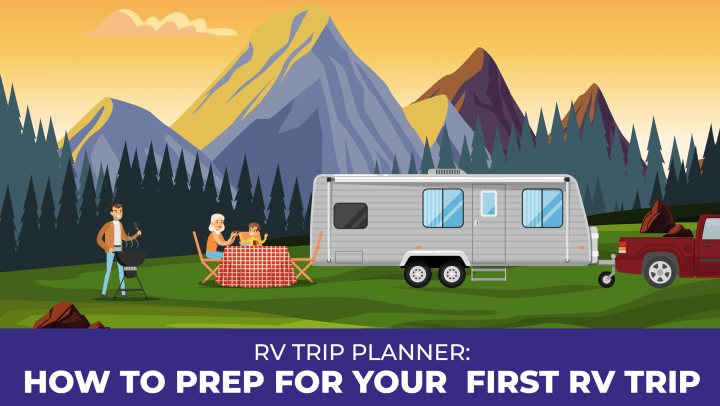 When it comes to vacationing in America, few trips compare to the versatility and comfort of a cross-country road trip in an RV.
From the woes of airplane travel to being stuck with a fixed itinerary in a new place, there are many factors that make traditional travel methods obsolete—and make RVs a great investment.
With an RV—whether you have a fifth wheel, a pop-up, or a Class A motorhome—your entire family can kick back and relax in a private space while you explore the vast wilderness of the continental United States.
No more shuffling through long security lines at the airport; no more missing out on the unpredictable adventure of the open road.
But for RVers looking to break in their new traveling home, it can feel daunting to hit the ground rolling for the first time—especially when it comes to preparing for your first long haul expedition.
With this RV trip planner, you'll be able to feel confident prepping for your first RV trip before you pull out of the driveway, including securing RV storage space when your unforgettable journey comes to a close.
Mapping Your Route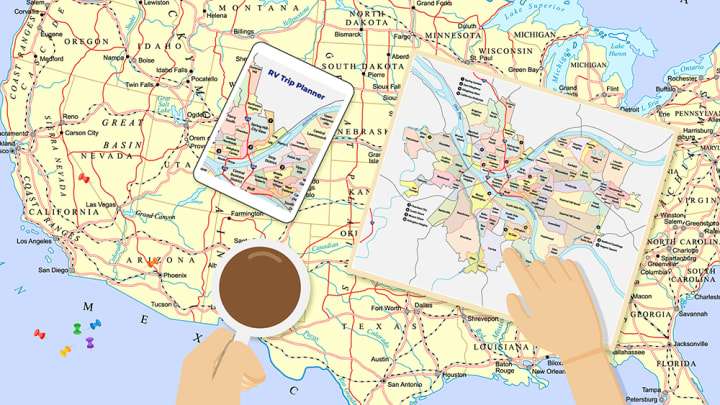 While a certain portion of your first RV trip can fulfill your free-roaming wanderlust, it's best to start with a general gameplan in mind. Without a clear destination on the horizon, you could wind up driving aimlessly while spending far too much money.
With definitive places to go and things to see, you can ensure your family's traveling desires are met, accurately calculate trip finances, and allow yourself to take your sweet time on the road ahead.
Robust applications like RV Trip Wizard's visual RV trip planner allows you to map out safe RV routes, browse through more than 17,000 unique campsites on your path, find gas stations and rest areas along the way, and learn about 57,000 points of interest all across the country. As a bonus, the route you create with RV Trip Wizard can be exported to Google Maps or your onboard GPS device.
Timing Your Trek
Just because your RV gives you the freedom to go anywhere, anytime, it doesn't mean you should.
Make sure to pay close attention to major RV travel holidays, fluctuations in prices at popular campsites, as well as weather conditions in every place on your route.
Getting caught up in inclement weather or campsite price surges due to limited availability can be a drag, costing you hundreds of dollars more in the long run.
By planning your trip in advance, you can book your campsites when prices are low and avoid the dangers of Mother Nature to the best of your ability.
Prepping Your RV
Much like your daily commuter vehicle, your RV must be in good shape before you take off. Below, we've created an RV checklist to help ensure your rolling home away from home is safe for the entire family prior to launch:
Pre-Trip RV Checklist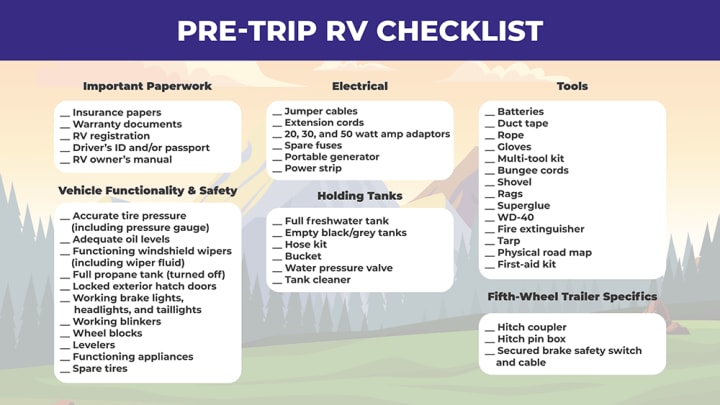 Download your Pre-Trip RV Checklist
Important Paperwork
Insurance papers
Warranty documents
RV registration
Driver's ID and/or passport
RV owner's manual
Vehicle Functionality & Safety
Accurate tire pressure (including pressure gauge)
Adequate oil levels
Functioning windshield wipers (including wiper fluid)
Full propane tank (turned off)
Locked exterior hatch doors
Working brake lights, headlights, and taillights
Working blinkers
Wheel blocks
Levelers
Functioning appliances
Spare tires
Electrical
Jumper cables
Extension cords
20, 30, and 50-watt amp adaptors
Spare fuses
Portable generator
Power strip
Holding Tanks
Full freshwater tank
Empty black/grey tanks
Hose kit
Bucket
Water pressure valve
Tank cleaner
Tools
Batteries
Duct tape
Rope
Gloves
Multi-tool kit
Bungee cords
Shovel
Rags
Superglue
WD-40
Fire extinguisher
Tarp
Physical road map
First-aid kit
Fifth-Wheel Trailer Specifics
Hitch coupler
Hitch pin box
Secured brake safety switch and cable
Booking a Pre-Trip Inspection
To give yourself peace of mind on the integrity of your RV, you can have a comprehensive pre-trip inspection done by a local mechanic or RV professional.
3 Popular RV Routes Across the Nation
Still unsure of where your first RV destination should be? Experienced RVers from all over have routed out some of the most serene circuits in the nation, including:
Big Sur Coastal Highway – California
Few RV routes feature the stunning backdrop that is Big Sur, California. From the iconic magnitude of the Bixby Bridge to California Condors flying across the picturesque coastline, Highway 1 through Big Sur is known as one of America's best national scenic byways.
With stream-side camping, an eclectic array of restaurants, and stunning hikes through redwood forests, Big Sur is a great place to roam in your RV.
Yellowstone National Park – Wyoming, Montana, & Idaho
One of the most iconic parks in the world, Yellowstone National Park features more than 3,500 miles of diverse landscapes and a plethora of wildlife. Driving through, you can stop and see famous Yellowstone staples such as Old Faithful, the Grand Prismatic Spring, and the Grand Canyon.
Note: When planning your RV trip to Yellowstone, make sure to do so a year in advance, as campsites book up almost immediately. Additionally, popular roads throughout the park can get busy, so be prepared to exercise your best rush hour patience while in traffic.
Blue Ridge Parkway – Virginia & North Carolina
Spanning 469 miles through the southern and central Appalachian Mountains, Blue Ridge Parkway is a geologically-rich drive that features bountiful wildlife, some of the oldest mountains in the world, and easily accessible RV camping areas—making it a perfect route for first-time RVers who'd like a bit of breathing room on the road.
Blazing Your Own Trail
The sky's the limit when it comes to routing out your trail, so don't feel pressured to follow the crowd. If you're feeling truly adventurous, you could close your eyes and randomly pick a destination on the map, and the RV Trip Wizard can help you plan a route to get there!
RVing doesn't have to mean camping, hiking, or doing outdoor activities, either. Road tripping in an RV can be great for things like multi-day music festivals, restaurant hopping, or even visiting out-of-town family members.
Country Roads, Take Me Home
Although you might feel like you could stay out on the road forever, all good trips must eventually come to a close—but that doesn't mean the adventure has to stop the minute you head toward home.
To really get the most out of your trip, plan to take a completely new route back with RV Trip Wizard to continue exploring until the very last second.
As you get closer and closer to the end of your quest, you can reflect on fond memories of the trip's best moments and start routing out a new RV trip for your next cross-country odyssey!
Save Space at Home with RV Storage
For many RV enthusiasts, finding a place to store such a large vehicle at home can be a challenge. With both uncovered and covered RV storage at many Devon facilities across the country, you can save limited space in your driveway while keeping your rolling home in a place you can trust.
With well-lit, fully fenced properties and video surveillance running 24/7, you can have peace of mind that your RV is free from harm's way any time of the year. Find a Devon facility near you that features RV storage today!
More From Devon Self Storage