Must-Try Home Office Ideas for Small Spaces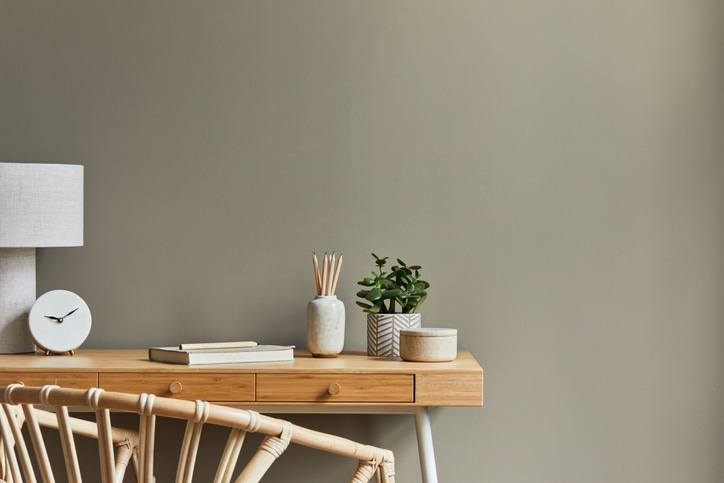 With more companies allowing employees to work remotely, the need for home office equipment is increasing. However, not everyone has an ideal space to set up an office in their home. When you need to find space for your home office, follow these tips to make the most out of your space.
3 Home Office Ideas for Small Spaces
There are ways to get creative with organizing your space, no matter the size. You'd be surprised how far a little space can go. Whether you use a spare bedroom, a corner of a room, or a den in your apartment or home, there are ways to make it a workable space. Here are three ways to utilize your space while creating a home office:
 1. Utilize the Guest Bedroom
Oftentimes people don't utilize the space in their spare bedrooms to the full extent. You can easily create a functional workspace in your guest bedroom while still reserving it for guests to stay. There are ways to create a dual space in your guest bedroom for work and hosting guests. A few tips for a dual-purpose space include: 
Get a smaller bed in the guest room. If the bed is too large and can't comfortably fit a desk, think about getting a smaller bed so more can fit in the room. If the room is small, you could also put a pullout couch or futon in place of a bed.
Rearrange furniture to make room for a desk, chair, and shelves.
Build a custom built-in desk that also can be used as a nightstand.
2. Bedroom Office
If space in your bedroom allows, setting up a desk against a window or wall can be a nice touch to the room and create a practical workspace. Additionally, you can utilize your bedroom desk as an opportunity to set up home décor. Set up picture frames, plants, cards, and more to make the space your own. Other things to consider when setting up a desk in your bedroom: 
Get a standing desk. Using a standing desk not only improves your health but can free up space without needing a chair. If you need a chair occasionally, get one that folds up, and you can store it easily when it is not in use.
Get furniture that goes with your current bedroom furniture. This way, the bedroom still feels like a cohesive space. 
Have your desk double as your nightstand. Doing this will provide you with the shelf and drawer you need next to your bed while also providing enough space for the desk.
3. Corner Office
If you don't have a spare bedroom in the house and not much room to work with in your bedroom, a corner of the house can work too. Utilizing a smaller desk or corner-shaped desk can help save space. Easily set up a desk with a compact chair and hang a few floating shelves, and you have yourself a home office. Vertical shelves are ideal to maximize storage space in your home, allowing you to stack items such as books, documents, and other items to create additional space. 
Cheap Home Office Ideas
In addition to being creative on where to set up your home office, there are ways to not spend a ton of money. You don't have to buy all new office furniture to have an ideal workspace. Look for furniture and supplies at thrift stores, discount stores, or purchase secondhand. You can also find affordable organizational supplies for your home office, including pens, pencils, folders, drawers, bins, and shelves at discount stores.
Maximize Space in Your Home With Devon Self Storage
Having a dedicated office space can give you the ability to be more productive at work and maintain a healthy work-life balance. While there are ways to effectively store and organize office items at home, you can also free up space in your home with self storage. Devon Self Storage offers a wide variety of storage units to fit your storage needs. With unit sizes running from 5' x 5' to 10' x 30', you can find the right fit for you. Find your storage unit at Devon Self Storage today!
More From Devon Self Storage