5 Tips to Make Winter Move a Success | Devon Self Storage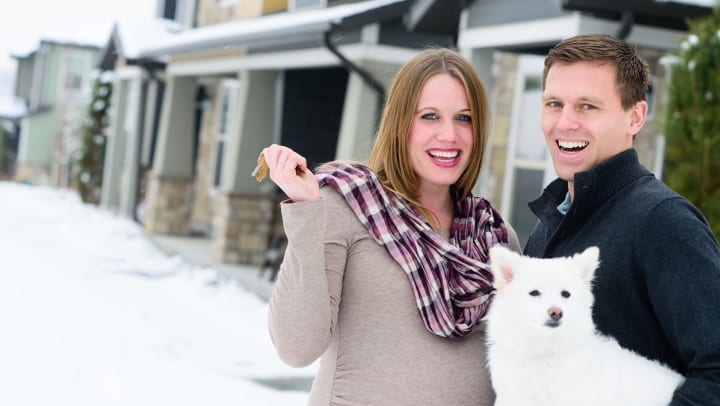 Most moves take place in spring and summer when the days are longer and the weather is more predictable, but sometimes waiting until summer or spring isn't an option. If you are faced with moving in the winter, take heart. For one thing, moving companies are easier to schedule in winter and often offer significant discounts for offseason moves. In fact, the winter months are the cheapest time of year to move. Coordinating with your building on move-out and move-in days is generally easier during the slow winter months also. Still, it's best to be prepared for the possibility of weather challenges. Below are our five tips for making your winter move a success.
1. Bulk Up Your Packing Material.
Preparing for a winter move begins when you start packing. Even if you have a white-glove moving service, accidents can happen and packing material is much more likely to get wet. Most moving packing tips and tricks still apply with a few additional precautions.
Use new, heavy-duty boxes. Don't be tempted to break out your stash of boxes from prior mail orders. Even one shipping journey can weaken a box and make it prone to falling apart if it gets damp.
Go heavy with the tape. You want to make sure all the seams of your boxes are thoroughly sealed.
Invest in waterproof liners. Waterproof paper lining the bottom and top of your boxes can save your things if they do end up getting wet.
Consider renting plastic bins for your move. Though they cost more than boxes, waterproof plastic bins are the best option for keeping your keepsakes dry.
2. Protect Your Floors
On moving day, movers will be traipsing from the truck to various rooms of both your old and new home. Asking them to remove their shoes while they are holding your couch or dresser is not advised. Masonite boards are the most common materials for floor protection because they are sturdy and slip-proof. Check with your movers to find out what their protocol is for floor protection. There may be a fee for having them lay down extra masonite. You can also purchase it at most hardware and lumber stores.
3. Prepare Your Walk & Driveways
When moving in the winter, it's important to make sure the path from truck to door is safe for you and your movers at both locations. Don't wait until moving day to shovel your walk and get your deicing agent. You will likely have better things to think about, and with shortened daylight hours (especially if you are moving in December), you will want your moving crew to get to do their job right away.
4. Think About How You Are Going to Stay Warm
Remember that your front door will be open during the move, and you are likely to spend some of your day outside. Be prepared with warm clothes and a space heater if necessary. And don't forget to make sure your utilities are on and the heat is working in your new home. You don't want to spend your first night shivering.
5. Plan for Delays
Even if your meteorologist, your almanac, and your psychic have predicted good weather, winter can always throw a left hook. Prepare yourself for the possibility that your move might go slower than planned or even need to be rescheduled. Movers will take the precautions necessary to protect themselves from injury and your things from damage, so it's not necessarily a bad thing. Just make sure you review delay and rescheduling policies with your movers ahead of time. Also check with your building, if necessary, about their flexibility when it comes to delays or reschedules.
Looking for more moving and storage tips? Check out the Devon Self Storage blog for more expert advice.
More From Devon Self Storage