How Organization Can Help You Land a Job After Graduation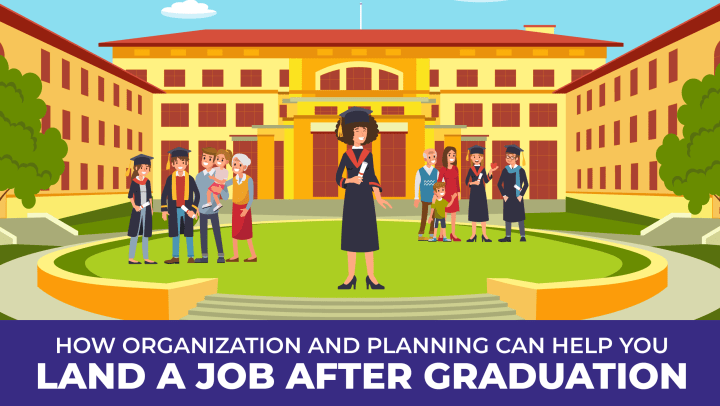 After four years of hard work and dedication – not to mention a little bit of fun – graduation day is finally right around the corner!
From long days spent in the library writing research papers to dorm room all-nighters spent studying for exams, you may think you can finally rest easy now that the days of school work are behind you.
But unfortunately, the hard work doesn't magically stop after you walk across that stage to accept your diploma.
With so much competition out there graduating around the same time you are, landing your first job after college can be an arduous task – especially if you didn't get the chance to participate in a summer internship program.
So, just how can you ensure you stay ahead of the pack while job hunting post-graduation? And how can you avoid being experienceless and jobless after you leave your alma mater for good?
By staying organized and level-headed throughout the final stretch, you can create an immediate, short-term plan to secure your dream job as soon as possible.
Through participating in a post-grad summer internship, building a strong resume and portfolio, and establishing a network of contacts in your career field soon after you graduate, you'll gain invaluable insight and knowledge that will help you grab a great job in no time.
Planning for a Post-Grad Summer Internship
Even if you didn't participate in a summer internship program during college, applying for and securing a post-grad internship as early as possible is a practical way to build up your portfolio.
Many jobs require you to have relevant, real-world work experience in addition to your degree, and sometimes the only way to get it is via an internship within your field of study.
No matter how badly you want to jump into the workforce right away, taking the time to show your worth at the bottom of the ladder will help you build a robust resume while boosting your professional skills – getting you one step closer to securing the job of your dreams.
Post-grad summer internships can provide you with:
Relevant work experience
Professional skill building
Portfolio work
Qualified references
Internships also allow you to explore diverse facets of your field of interest, as you will likely have the chance to learn about many different roles that you might otherwise not know about.
How To Find Post-Grad Internships in Your Field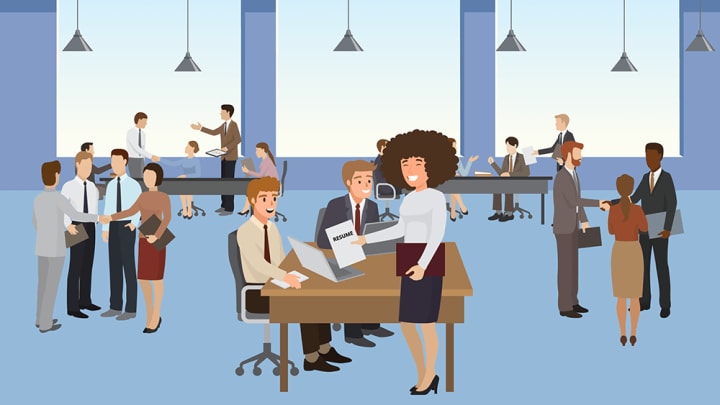 Finding a post-grad summer internship in your field of study can be simple if you stay up to date with current openings. When it comes to internships, there are many sources you can utilize on a daily basis to see what's available, including:
Digital Internship Finders – Search engines like internships.com or Google are great tools to check on summer internships available near you. To refine your search, make sure to use your location or locations of companies that you'd like to intern for.
Social Media Accounts – Staying in the loop with your favorite companies on their social media accounts is an effective way to find out if any summer internship opportunities open up.
Career Fairs – Whether put on by your school or via job fair organizations, career fairs are perfect for meeting recruiters seeking interns who in need of real-world experience. Even if you think job fairs are outdated, face-to-face interactions exponentially increase your chances of landing a role in your field.
Building a Well-Organized Resume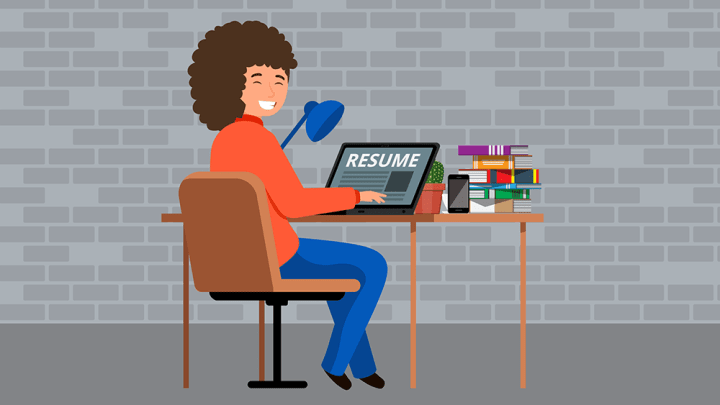 Near the end of your post-grad summer internship, you can begin to use your real-world experience to build your new and improved resume.
Whether you're applying for a full-time position within the same company that provided your internship or you're seeking out an opportunity elsewhere, an organized and detailed resume allows you to reach the next rung of the job ladder much faster.
How To Create a Resume that Resonates
Creating a quality, organized resume starts with establishing a foundation of your employment history, educational background, skills, and qualifications – most of which you recently acquired from graduating and completing your summer internship.
After compiling all of your general information together, you can begin to write an action-oriented resume that touches on the job you're actively applying for.
Choosing a Format – When it comes to choosing the format of your resume, it's good to stick with simple design elements and easy-to-read, sans serif fonts. Format your resume from left to right – sometimes called an F-Pattern or E-Pattern – so a recruiter or hiring manager can easily scan the page and absorb your information quickly. You can make your resume stand out by adding pops of color or different weights of the same font but use these tactics sparingly.
Writing a Unique Profile or Objective – Well-written resumes feature unique, concise profile content based upon your qualifications and the specific job for which you're applying. In your profile, you should write a brief summary that details how you applied your skills in relation to the skills required for the job opening – featuring keywords or phrases that are similar to words in the job description or ad (which helps if the company uses an applicant tracking system). Sitting above your work history on your resume, your profile will likely be the first thing that a recruiter will see, so make sure it highlights your unique personality and relevant skills.
Showcasing Your Skills – Customize this section of your resume with your industry-related skills in a bulleted list format. Similar to your profile or objective, it's important to add closely related skills to the required skills listed on the job opening. You can list both hard skills (teachable or quantifiable abilities) and soft skills (subjective interpersonal skills, e.g., "creativity" or "leadership"), but try not to list skills that are unrelated to the job.
Adding Your Work Experience & Education – Because of your limited professional experience, this section of your resume might be shorter than normal. Be sure to list your job history in reverse chronological order, beginning with details about your most recent summer internship or professional experience. For each job you list, make sure to include the job title, company, location, dates of employment, and a bulleted list of your strongest accomplishments and tasks you performed under each listing. Following your work experience, you should add your educational experience and GPA (only if it's impressive!) in a similar format.
Certifications, Awards, or Accomplishments – Make sure to list any certifications, awards, or outstanding accomplishments you may have received during college or your internship. These elements show a future employer that you're dedicated, well-credentialed, and always growing – three factors that play a major role in a job recruiter choosing you over another candidate.
Creating Your Portfolio – Whether you're a graphic designer or a marketing professional, building a portfolio that showcases your work is paramount to your success when applying for full-time jobs. From creating a dynamic website to establishing a digital book, job recruiters and hiring managers will want to see projects you've worked on that demonstrate your ability to put your skills into action. Even if your field of study is non-visual – such as sales or project management – you can add things like brainstorming sessions, prototypes, project reports, or bulletins to your portfolio to show your relevant projects.
From your internship supervisor to department heads, the people you meet and establish relationships with during your internship can be the most influential people in the future of your professional career.
No matter if your network consists of educational mentors, connections to new job opportunities, or professional references, taking the time to network with your colleagues during your internship is vital to securing a full-time job.
Additionally, you can establish friendships and connections with clients, vendors, or customers who may be able to lend you a helping hand in the future.
How To Network at Your Summer Internship
Networking at your internship starts with getting to know your co-workers and discovering what they like.
Finding common ground with the people you're around every day – be it discussing art, raving about favorite movies, or debating over sports – is a great way to break the ice and share one another's personalities, helping to establish lasting friendships and bonds.
Take these bonds even further by including yourself in company activities, happy hours, and events that are held outside the office.
On a professional level, be sure to show curiosity and willingness to learn when it comes to your mentor's day-to-day activities or roles within the company – as well as any other co-worker you collaborate with.
Don't be afraid to ask questions when you don't understand something or want to know more, as it's important to absorb as much as you can during your short time as an intern.
Let Devon Help with Your Temporary Storage Needs During Your Transition
Whether you're moving to a new city for your summer internship or moving back to your hometown while you submit applications, finding short-term self storage space for your belongings is easy with Devon Self Storage.
With climate-controlled storage units in a wide range of sizes and month-to-month rental options, storing your items at a facility near you is more convenient than ever.
To find out how our storage units can ease your transition after graduation, feel free to contact our team today!
More From Devon Self Storage