Adjusting To A New Way of Life Post COVID-19 | Devon Self Storage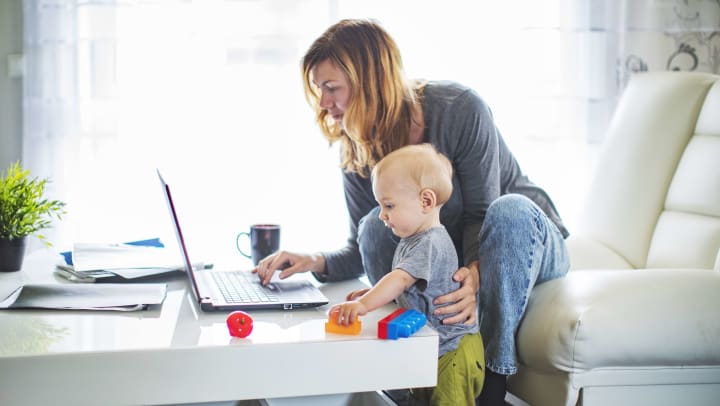 COVID-19 has reshaped our daily lives. With potentially more people at home and more needs to be met in a single space, it might be time to reconfigure to make room for everyone. Your space – and using it as efficiently as possible – is now critical. Devon Self Storage offers some ideas on how to help you find the optimal setup.
What to Pare Down in Your Space & Why
Simpler times calls for simpler spaces. Your first priority is to do a quick gap analysis on spaces and furniture in your home. Here are some questions to consider:
Who's using which space for what activity, and does that space have the right furniture?
Is one area enough for at-home schooling, or should you arrange two for maximum productivity?
If both parents are working from home, do they each have quiet spaces to take calls and do work, or will using the same space at different times suffice?
Does the bedroom provide enough of a retreat for your recently returned college student?
Is there room to work out inside?
If your answers find you flummoxed, take a look at the configuration of your home and the pieces that have become less important of late – maybe a china cabinet, giant sectional sofa, extra bookcases, etc. Anything that doesn't serve an immediate need can be loaded up and stored in your Devon Self Storage unit.
Finding Space for Each New Home Activity
Promoting productivity is the key phrase right now. You'll need to look at furniture and space as purely functional. After you've stored all those extraneous items, you now have some ready-to-use open spaces! How can you best put them to work for you?
Flat surfaces are in high demand for functional work areas. Perhaps move the kitchen table to create a desk or craft table for the kids. Opening up that kitchen area could clear room for an indoor workout space decked out with free weights, yoga mats, and resistance bands.
If your kitchen table is larger, break it into segments, using half for meals and the other half as a workstation. Now, more than ever, your home needs to become a functional sanctuary for everyone. Remember, if underused furniture is taking up space, store it ASAP!
Reconfiguring a Space to Make Room for a New Lifestyle
This pandemic could completely change how we live in our homes. Check out some of the changes architects are anticipating in this Dwell Magazine article. Now's the time to channel your inner architect and think outside the box to make the most of your space. For instance, if you have a basement or large sunroom, consider putting it to use in a creative way. Some ideas:
Use it to take up that new hobby you started during quarantine
Fashion it into a living space for relatives who are moving in
Use it as a permanent work-from-home space
Turn it into a home gym Make it a home-school teaching area
Let Devon Self Storage help you pare down and move out that furniture getting in the way of sane living in the wake of COVID-19. Life happens and we're here for you. If working from home becomes your new normal, consider increasing your Devon Self Storage unit size as well.
We've got something for everyone. For more tips on storing your things, check out the Devon Self Storage blog today.
More From Devon Self Storage