8 Halloween Costumes Made with Boxes | Devon Self Storage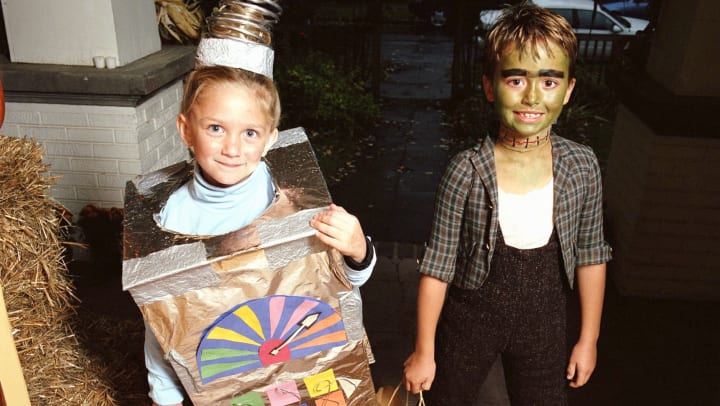 Do you still have packing supplies around from a recent move? Would you rather make your own original and creative costume, instead of buying it in the store (and seeing 20 other people wearing the exact same thing)? Then check out these 8 great Halloween costumes you can make using boxes and other packing supplies. Boxtumes are the way to go this Halloween!
Juice Box
They say you are what you eat – or, in this case, drink! If your munchkin loves drinking juice, they'll also love this Halloween costume that transforms them into their favorite boxed juice. As a variations on this theme, you could also do a carton of milk or make it an adult and child theme and have milk (adult) and cookies (kids).
Boxed Wine
Speaking of boxed beverages, here's a more adult version of the child's juice box costume: a boxed wine costume.
Measuring Tape
If you're a manly man or handy gal, this measuring tape costume is perfect for you. Just remember when you're making this costume: measure twice, cut once!
Hot Air Balloon
This creative and colorful hot air balloon costume is great for adults or kids. It uses a box for the basket portion of the balloon and a large bunch of helium-filled balloons on top. Just be careful not to attach too many balloons, or you might inadvertently find yourself airborne.
Minecraft Character
Drag yourself or your Minecraft-obsessed kid away from the computer screen to be transformed into their favorite Minecraft character in real life with one of these great game-inspired costumes. You could also simplify by just doing the head, if time and energy are in short supply.
Glow-in-the-Dark Jellyfish
What's the coolest sea creature? Duh – jellyfish! And if you've got Bubble Wrap on hand, you can make this super-creative jellyfish costume, complete with glow sticks for that cool phosphorescent effect.
Marge Simpson
You'll be instantly recognizable in this Marge Simpson costume, thanks to the spot-on recreation of her iconic blue beehive hairdo, replicated through the magic of painted Bubble Wrap. Just add a green dress and chunky red necklace, and you're all set. Yellow skin and googly eyes are optional. You may as well collect all the prizes for best costume right now.
Pair of Dice
OK all you loved-up couples out there. If you simply must have a matching costume, this pair of dice is for you. You just need two square boxes that are the same size, a roll of white paper, some black paper, scissors, spray adhesive, craft glue, and tape.
Have fun getting crafty and putting all those left-over packing supplies to good use this Halloween. For tips and tricks on packing, moving, and self storage, visit the Devon Self Storage blog.
More From Devon Self Storage