7 Must-Have Tools & Supplies for Your Move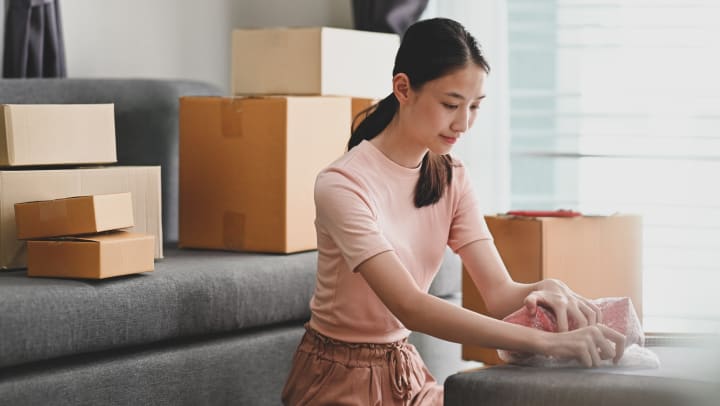 Let's be honest – moving isn't fun. But the right tools and supplies can make the whole process much easier. Devon's handy guide spells out the must-haves to ensure your next move goes smoothly.
Packing Tape, Scissors & Box Cutters
You should never be without these during your move. Packing tape can be used to secure a blanket's corners, to repackage a box that had to be opened, or to secure furniture parts together. You can also use packing tape to keep screws, tools, and other necessities taped to the underside of tables and desks. A good tape dispenser with an integrated cutting edge is also very handy to have.
Boxes
You'll need an assortment of box sizes to accommodate all your belongings. You can also consider specialty boxes like flat or hanging wardrobe boxes that speed up the packing and unpacking process. Make sure you have plenty for the packing stage of your move, and keep some extras on hand for moving day, as there are always items that have been overlooked or in use until moving day that you'll need to pack at the last minute. Look online to find moving box calculators that will help you estimate the types and quantities of boxes you'll need.
A Basic Tool Kit
Moving means having to disassemble and then reassemble furniture pieces and toys in order to fit them through doorways, in elevators, or just to move them safely. You also have to pack a moving truck like a game of Tetris, and there usually aren't lights inside, which is where the flashlight comes in handy. Having the right tools on hand makes the process much faster and easier. So gather a measuring tape, basic set of screwdrivers, pliers, a hammer, and a flashlight. Maybe also include an extra pair of scissors, box cutter, and a Sharpie or two.
Furniture & Utility Dollies
A furniture dolly (a flat base with four wheels) and/or a utility dolly or hand truck (the upright kind with two wheels) can be both time savers and back savers during your move. Use the utility dolly to stack multiple boxes and easily move them all at once. Use the furniture dolly to safely move large, bulky furniture pieces.
Packing Paper & Bubble Wrap
Don't risk opening a box in your new place, only to find that things inside it are broken because they shifted around or were banging against each other during transit. Wrap fragile items in packing paper to protect them and also use the paper to pad the interior of boxes. Bubble Wrap is a good option for protecting particularly delicate items like artwork and electronics.
Moving Blankets or Pads
Moving blankets are pretty much indispensable when it comes to moving yourself. Wrap larger furniture pieces and appliances with a moving blanket or pad to protect them from dust, spills, and scratches. No matter how carefully you arrange these items in the moving truck, they will shift at least a little in transit and can end up banging or vibrating against each other and the sides of the truck.
Moving Straps & Tie-Downs
At various times in the moving process, you may need to secure items to a dolly or stabilize them inside the moving truck, and moving straps and ratchet tie-downs are perfect for this. You can also use moving straps as part of two-person lifting systems such as a shoulder dolly or forearm forklift for lifting and moving heavy furniture pieces more easily.
You can find the majority of your essential packing and moving tools and supplies in one place at your local Devon Self Storage location. Many of our facilities also offer onsite moving truck rental, and our helpful staff can provide expert advice to assist with your move. For more handy information and tips to help with your next move or to make more space for what matters in your life, visit the Devon Self Storage blog.
More From Devon Self Storage