7 Halloween Costumes To Make Out of Boxes | Devon Self Storage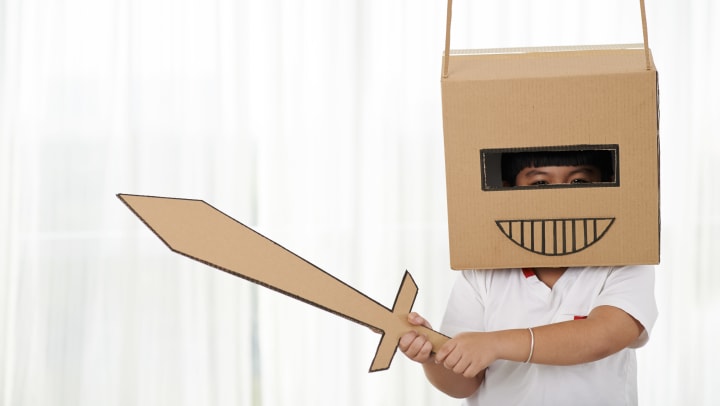 Last year, we shared eight Halloween costumes you can make at home using your leftover boxes and packing supplies. We continue the tradition this year with seven more upcycled DIY Halloween boxtumes using little more than some tape and cardboard. Let's get crafting!
X-Ray Machine
Want to show another side of yourself this Halloween? Give the world an inside look with this bone-chilling X-ray costume. We all have skeletons – yet they're still spooky!
Toy Box
Why settle for a standard costume when you can show off and add layers? Whether you want to dress up as a creepy doll or a cadaverous superhero, don't forget to add the pièce de résistance: a themed box, tying it all together. Now you're the total package!
Alice in Cardboardland
We've all been there. One minute, you're eating a cookie marked "Eat Me." The next, you're inflating in size and breaking through a rabbit's house, getting stuck in the process. If you're a fan of Alice's Adventures in Wonderland, this one's for you.
Claw Crane
Get a grip! This showstopper is sure to turn a few heads. You could fill your costume with stuffed animals, or perhaps instead you could use candy to hand out to trick-or-treaters. Or hey, make it meta: Fill your claw crane costume with winnable portraits of Frasier Crane – explain yourself to no one.
SpongeBob SquarePants
Halloween gives us the chance to live out our dreams (or nightmares), at least for one night! After all, "With imagination, you can be anything you want." SpongeBob SquarePants is the perfect shape when it comes to cartoon boxtumes. Have you always wanted to live in a pineapple under the sea? Make it happen!
Milk & Cookie
Looking for costumes for two? Keep it sweet with this duo milk carton and cookie idea. You can make it your own by changing the cookie mix-ins or the milk label. If you want to go for a more healthy interpretation, make some minor adjustments and turn the cookie into a saltine cracker and the milk a pumpkin soup carton.
8-Bit Princess
Sorry, but our costume idea is in another paragraph.
If you're old school, you'll love this boxy take on everyone's favorite pixelated princess. Just don't be surprised if someone throws a mushroom or two into your candy bucket.
A Space to Store All Your Spooky Stuff
Looking for a place to store your seasonal decorations organized when they're not in use? That's where we can help. Find a conveniently located Devon Self Storage facility near you and get organized today!
More From Devon Self Storage